I have found the team at HTL to be friendly and professional throughout our entire relationship. Their ability to work alongside our internal IT support team has been a great asset.
Cyber-security Services
It's Time to Protect Your Business
In today's changing threat environment, you need an IT support partner that is an expert in cyber security. HTL Support understands the threat posed by cyber-attacks end to end, and can help you to do the maximum possible to protect your business while ensuring business continuity and damage limitation in case the worst happens.
Call Us Today
0207 093 6000
Cyber-Security Solutions
Updates and Patching
As threats evolve, patches are issued to protect hardware and software. HTL Support will oversee patches and updates for your PCs, servers and networking equipment and will even look after often ignored IoT devices, such as thermostats and alarms, as these too can be vulnerable.
Email security
Securing email is a multi-faceted concern. We effectively guard against impersonation - by applying SPF (Sender Policy Framework) and DKIM (Domain Keys Identified Mail), – as well as the interception of message content – achieved with TLS Encryption (Transport Layer Security). Antivirus and anti-spam screening are important to avoid exposure to viruses and phishing scams, while our experts will assist in creating archiving and backup solutions to protect your messaging history.
Two Factor Authentication
Using passwords alone provides only so much protection; two-factor authentication (2FA) can toughen up security. We assist you in introducing a second authentication factor for key services so that even if a password is compromised, intrusion can be halted at the second authentication stage.
HR Policies
Cyber security starts with your users. HTL Support can advise you on procedures for new hires and when personnel leaves. We also provide comprehensive cyber security training, educating employees on essentials such as password best practice, email security and phishing scams.
Antivirus and Malware Protection
Antivirus remains a staple of cyber defences. We are able to set up antivirus, malware and ransomware protection hosted internally or in the cloud. While signature-based checking for known threats is essential, HTL Support will also assist with user education and backup strategies to protect against new threats, including ransomware.
Endpoint Security
Employees often need to take company data away from your premises on laptops or external drives. We can help you to protect these devices by encrypting disks and by activating the Trusted Platform Module (TPM). HTL Support will also check that endpoints are up to date with application and OS patches and running an effective antivirus.
Web Content Filtering
Websites are the source of many internet nasties so you need to protect your users from malicious sites by intercepting requests to known bad sites and by checking content against a signature database. HTL Support can install threat management devices in your network that apply DNS filtering and content management to block compromised or inappropriate sites.
Firewall and Network Protection
Your network is probably already protected by a firewall, but do you know how effective this protection really is? The nature of threats is constantly evolving and HTL Support can assist you with firewall management and auditing. We offer a comprehensive penetration testing service while also committing to continuously updating firewall firmware for our support clients.
External Auditing
Businesses and the public are increasingly aware of cyber security. You can re-assure those you do business with by getting a Cyber Essentials badge or by attaining ISO 27001 certification. Both routes have strict requirements and HTL Support can assist you with the process.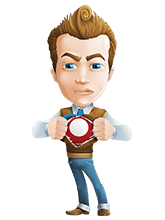 Let's talk
If you are ready to protect your assets for the long term with a IT support service London, email or call us on 0207 093 6000.