Our experience with HTL and their IT support team has been fantastic. Contacting them with any IT problems we have is so convenient and all issues are solved quickly.
Website Case Study: Sea Vixen
Overview
Sea Vixen is another exciting website projects we have worked with. Sea Vixen has touched many hearts with their commitment to remember and honor the sacrifices of the lost aircrew. We started working with them in 2007, launching a simple website design yet armed with rich information. Now that they are ready to create a version 2.0 of their home on the web, a great amount of improvements will be delivered.
Requirements
Undoubtedly, all version 2.0s of websites should reflect upgrades especially if we are talking about user experience. One of the critical aspects of their v2.0 is to improve the main website navigation due to large amount of information included in the website. A membership area was cited as another important feature as well as two separate sections for Image and Video Gallery. A new emblem was also required to sit on all pages.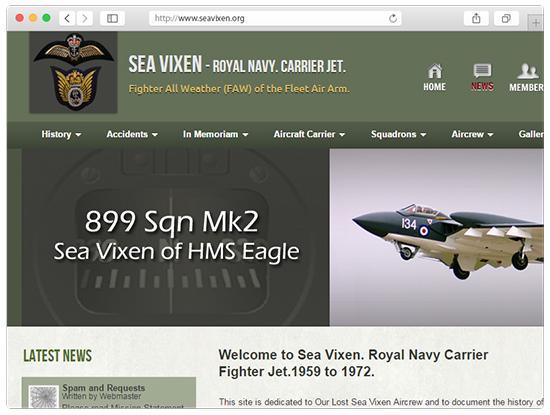 Call Us Today
0207 093 6000
Our Approach
Following the footsteps of version 1.0, we adopted the camouflage green and gray color combination across the website. There were three types of menu system that were applied in Sea Vixen. First, a top right hand menu with descriptive icons was added to highlight the commonly used website features. Next is the main navigation grouped into sections styled with smooth drop down effects for easier access in the inner pages. Lastly, the side navigation on the left of the subpages was applied as added support for users.
After the menus were nailed down, the distribution of information was the priority. On the homepage, a slideshow of aircrafts was installed labeled with their respective names. Latest news was also highlighted in the homepage followed by a Become a Member widget for easier access. The Gallery was subdivided into three sections namely Image Gallery, Video Gallery and Publications containing mementos of the fleet.
To handle news items, we installed one of our favorites, K2 Blog. The ever popular Phoca Gallery handled the image gallery where different squadrons were showcased. To insert readable publications, Enbed PDFs was installed. Another favorite from Joomla extensions called Blank Module was utilized to extend content display across the website.
After the redesign, overwhelming feedbacks were received by the people behind the website. Indeed, the memory of the brave men who lost their lives flying the SeaVixen aircraft will forever be treasured.