Response times are fast and efficient which helps us to solve any issues as soon as possible and to carry on with business as usual
Website Case Study: Old Brutonian Association
Overview
Old Brutonian Association is an alumni organisation dedicated in keeping ties with fellow Brutons. Also known as OBA, members are former pupils, of King's School Bruton in Somerset England. The aim of OBA is to maintain and promote an open line of communication between its members and holds regular events such as annual luncheon, known as 'London Lunch', and dinner on the first Friday of each December.
Requirements
The objective of OBA's website is to be informative and promote events and activities that they regularly hold. A news feature is required where the administrators can post latest happenings from its members. A section called 'Upcoming Events' was also needed where they can post forthcoming activities and events. Image Gallery, social media widgets and a download section were needed to download magazine publications in PDF format.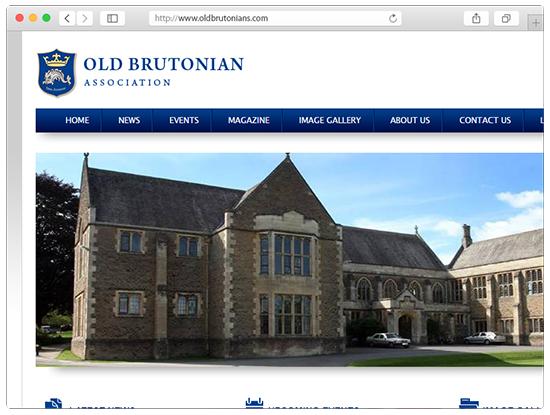 Call Us Today
0207 093 6000
Our Approach
The need for an interactive and a friendly atmosphere is what we have visualised for the new home of Old Brutonian Association. The overall look and feel of the site should be classic, consistent and elegant to encourage its alumni to partake in the activities.
We focused on the essentials for the organization. Navigation was one of the priorities to highlight the important features of the website. The homepage was divided into sections that would summarize what to expect on the inner sections. Latest news was assigned on the left, partnered by events on its right. Top three events were published on top of an events calendar while a few thumbnails of from image gallery were added on the third column. Small button links for Magazine and social media accounts were added as well. For easier way of finding information, search functionality was also incorporated. A floating widget for social sharing platforms was attached on the right for easier way of sharing information from OBA.
The extensions we used were from our favorites. K2 Blog was used to publish news while RS Events runs the events section. The two powerful extensions delivered the functionality OBA needs. Image Gallery used the popular extension Phoca Gallery that showcased the different OBA gatherings from the oldest to the latest. To enable quick PDF viewing, Enbed PDFs was used to insert the magazine publications. To extend content publication, Blank Module was installed. Its flexibility helped us to place various information across the website wherever we want to.
After the project completion, the overwhelming responses from the members were very pleasing.