From the very first call, dealing with a friendly member from the IT support team at HTL has made solving any IT issues we have an enjoyable experience.
Website Case Study: FLEXISEQ
Overview
FLEXISEQ is an innovative product specifically designed as a pain relieving gel for Osteoarthritis. It is specially formulated to combat pain and restore joint function without any pharmaceutical drugs. FLEXISEQ is the flagship product of Pro Bono Bio, a new Anglo-Russian international pharmaceutical company.
Requirements
The core messages of the design are flexibility, active lifestyle, mobility and pain relief. The sites should define (1) FLEXISEQ, (2) Osteoarthritis as a disease (3) how FLEXISEQ combats pain, (4) how to use the product and (5) explain its excellent safety profile. The design should be visually engaging on its target audiences namely patients, doctors and healthcare specialists.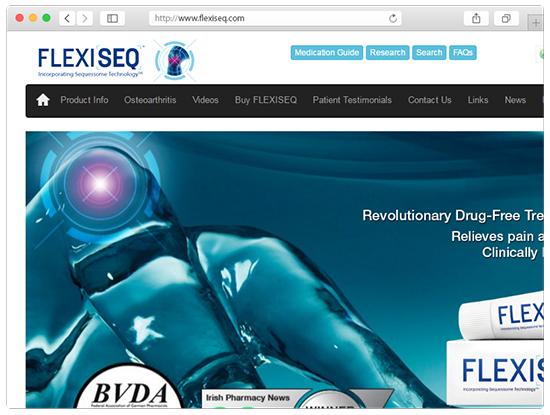 Call Us Today
0207 093 6000
Our Approach
Prior to FLEXISEQ's new look, we have successfully designed their website on 2011. We have effectively delivered the important aspects of the product and resulted on high volume of visitors daily.
The version 2.0 of FLEXISEQ focuses more on highlighting the achievements and expertise of the product. Content sliders were used across the website to emphasize information that is easy on the eyes. A prominent slider was added on the landing page to summarize the core messages to the viewers. New sections such as Videos, Latest News and Patient Testimonials were added to enhance viewer interaction. A 'Submit your story' section encourages Osteoarthritis patients to tell how FLEXISEQ helped ease their pain. An embedded PDF of Patient Leaflet is viewable directly on the page as well. Colours blue and white were used across the website while a tint of pink was randomly added on pages that needs accent.
The flag icons will redirect users on country-specific websites. These translate icons and text size options were added on the top right portion of the screen for easier access while three buttons namely Healthcare Professionals, Pharmacy Portal and Medication Guide are in the same row for visibility.
The extensions that we used were K2 Blog, Blank Module, DirectPHP and Enbed PDFs. FLEXISEQ websites reside on the same dedicated server of Pro Bono Bio to ensure fast and reliable performance.
We were happy to hear positive feedbacks from the users telling that the design was outstanding and how easier it was for them to use the website.