I have found the team at HTL to be friendly and professional throughout our entire relationship. Their ability to work alongside our internal IT support team has been a great asset.
Website Case Study: Salisbury VCC
Overview
Salisbury VCC has been known as the first choice in efficient, quality and low cost outsourcing solutions in the UK. People behind the virtual call centre are able to perform outstanding results in customer service industry by using green virtual business model. Working with Salisbury VCC will increase your revenues, reduce costs and bring better quality service.
Requirements
Four major areas of SVCC are Inbound, Outbound, Fundraising and Research. These areas need to be clearly defined and enable companies to identify what kind of service they are looking for. The website also needs to showcase a case study page to showcase their strengths and how they responded to the needs of their clients. Additionally, SVCC is active in social media such as Twitter and LinkedIn thus, social networking widgets is a must.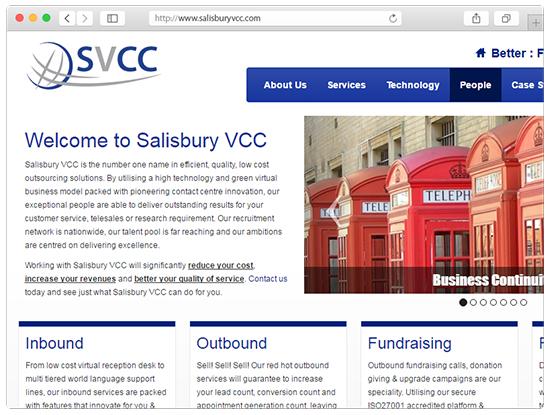 Call Us Today
0207 093 6000
Our Approach
Using the information we were handed, we quickly built a framework of the website based on the key aspects of the company. We highlighted six important areas in the top navigation to flexibly contain huge amount of information. We used tabs to ensure accessibility without losing content using GK4 Tabs.
The homepage displays a slideshow showcasing the strengths of SVCC. We have used the extension Nivo-Szaki Slider incorporating the best spots of UK.
To engage the website visitors, random banners were equally distributed across the site. Most of the advertisements and pages contain information about SVCC's ISO accreditations and credentials. Blank Module extension was used to hold and display contents.
We were happy to hear that the new website design gained more visitors and prospect clients. Moreover, the contact form on their site enables interested job seekers to submit their Curriculum Vitae to SVCC.