HTL's recommended solution was backed by their reliable IT support team throughout the entire migration process, which made us feel in control of the situation at all times
Website Case Study: Michael McCann
Overview
Michael McCann is a Labour Party politician from United Kingdom. He has been a Member of the Parliament for East Kilbride, Strathaven and Lesmahagow since 2010. The purpose of his website was to keep his constituents informed and updated from the Parliament. Being a political figure, it is essential to reach out to people and make yourself available whoever needs your service.
Requirements
McCann's website was a site transfer from Terapad to Wordpress. The existing site was used by thousands of people therefore; a user-friendly interface design is a must. The navigation system had become cumbersome hence, a new approach is critical.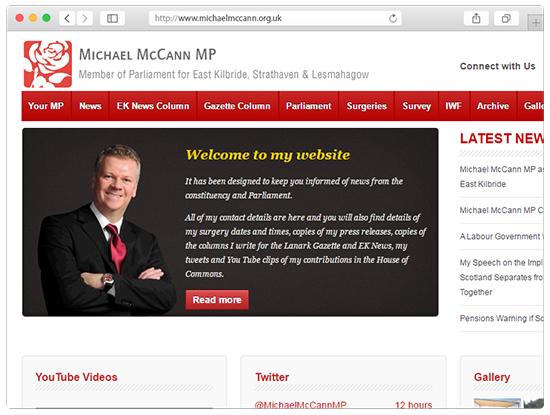 Call Us Today
0207 093 6000
Our Approach
Our goal was to ensure that most of the essential information should be placed on the homepage. The structure should urge visitors to click for more information and become interested on what's happening. We initially created a cascading navigation system and focused on what the sections are according to their importance.
All contact details from McCann's office were placed on the homepage while social media accounts were placed at the top for easier access. A latest news widget was positioned on the upper portion of the screen. A video section and an image gallery were also highlighted on the homepage.
Red and white were also used as the colour scheme to match with Labour Party's identity.
McCann's website is always up to date with the latest happenings therefore Wordpress was the best platform to use. Additional plugins such as Contact Form 7, Custom Recent Posts Widget, NextGEN Gallery and Google XML Sitemaps were installed.
With the new navigational structure and content order, visitors would easily find what they are looking for.