I have found the team at HTL to be friendly and professional throughout our entire relationship. Their ability to work alongside our internal IT support team has been a great asset.
Talking Your Way to a More Successful Business
The Role of Voip and a Cloud Pbx Hosted Telephone System in Reducing the Cost of Business Telephony
Despite the proliferation of text-based messaging communications such as email, instant messaging and web-based platforms supporting information sharing and collaboration through the written word, voice communication remains an indispensable part of the ebb and flow of everyday business.
If nothing else, this shows BT's famous 'It's Good to Talk' campaign concept was a masterstroke of marketing, encouraging increased telephone use through capturing and exploiting an essential universal truth about human communication - 'reciprocated confidences' – the trust that's built through private interpersonal communication, even in a business context.
The cloud technology services market has mushroomed and revolutionised the way businesses provision technology. The trend for cloud continues to grow; however, many have been slow to exploit the benefits of cloud-based voice communications.
The conventional PSTN (Public Switched Telephone Network) and ISDN (Integrated Services Digital Networks) through which many businesses connect to voice communication services are due to be switched off by BT in 2025. This firmly downgrades these technologies as legacy.
In this guide we discuss how businesses are able to gain competitive advantage with cloud based telephony. This reduces the cost of voice services while providing higher quality, more flexible voice communication solutions that support increased productivity.
A conventional approach to business telephony includes:
A PBX (Private Branch Exchange)

A hardware telephone system and the physical hub of telephony in an office
Associated costs: CAPEX, maintenance & upgrades
Lines to connect the PBX to the PSTN (Public Switched Telephone Network)

To carry incoming and outgoing calls
Associated costs: Installation, monthly line rental & call costs
Handsets

Typically enabling answering, calling, transfer and voicemail services
Associated costs: CAPEX, maintenance & upgrades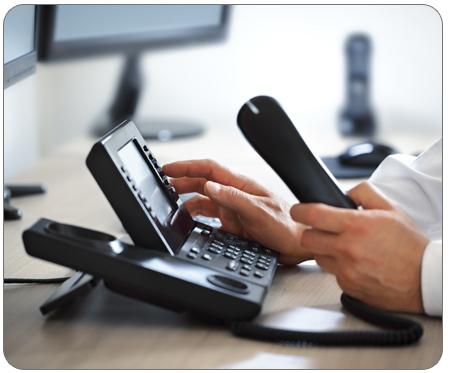 Of course the actual cost of the telephony bill is related to the size of the company and depends on the amount of usage. For many small to medium sized businesses of up to 100 people, the typical initial investment may be in the region of £100 per user, with significant ongoing running costs.
According to figures from BT, the Total Cost of Ownership (TCO) including CAPEX and all monthly recurring costs over three years for 100 users is approximately £55K. However, few businesses would expect to ditch a PBX after three years. Over 7 years, the TCO is approximately £100K. At the extreme lifespan of 10 years, TCO is put at approximately £130K.
| Lifespan (years) | TCO - £ '000s | Average per year - £ '000s |
| --- | --- | --- |
| 3 | 55 | 18.33 |
| 7 | 100 | 14.30 |
| 10 | 130 | 13.00 |
These figures are for a PBX using ISDN lines to connect to the PSTN.
Enter VoIP and the cloud
The convergence of voice and data networks allows voice communications to be transmitted as packets of data over networks just like digital files including, email, still images and video. This is a long established technology.
The cloud is enabled by virtualisation technology. This means a 'virtual' PBX may be hosted in the cloud, a data centre remote from the office. This provides telephony services to the organisation and connects to the handsets of users via the business-class broadband internet connection used for email and internet access.
The voice communication service is as seamless as a conventional PBX and ISDN legacy system.
TCO of hosted cloud PBX telephony
The cloud enables telephony to be delivered as a service by a service provider. This avoids CAPEX and installation charges for a conventional hardware PBX as well as ISDN line installation and rental charges. The only hardware requirements are handsets which may be purchased or rented. This transforms the TCO equation of making provision for telephony across a business. Based on 100 users the 'TCO' or more correctly – 'Total Cost of Telephony Services' per annum of a cloud hosted PBX solution comes in well below that of an on-premise hardware PBX equivalent.
| Annual cost | TCO - £ '000s | Average per year - £ '000s |
| --- | --- | --- |
| 1 year | 12 | 12 |
Remember, there is no upfront investment in the PBX required and no fixed asset depreciation. The contract may be simply renewed on a rolling basis on the anniversary. The contract would also include upgrades of the software and cloud platform as and when required, ensuring the latest features and benefits of any advances in technology.
How to Identify a Good Hosted Cloud Pbx Telephony Solution
A good hosted cloud PBX telephony solution provides excellent functionality that aligns with the way we work today and the other widely used business technologies.
Generally speaking, the features of an on-premise PBX are broadly comparable with that of the latest hosted PBX solutions. Below, we look at some of the main features and benefits of a cloud hosted PBX solution and contrast them where appropriate with those of a legacy system.
Mobile apps for tablet/smartphone integration
Apps for cloud hosted PBXs are readily available for a licence fee. Some are very powerful like the apps from Avaya and Cisco, but come at a premium cost. However, these costs may be offset for some users because apps may eliminate the need for handsets.
Call charges
Call charges are typically cheaper with a cloud hosted PBX provider. Generally speaking, advantageous rates are available to UK/abroad/mobile numbers. Some may offer free calls to UK fixed numbers. Contrast this with many legacy services that rack up charges for every point-to-point call.
Custom integration
Sometimes called CTI (Computer Telephony Integration), bespoke integration of the hosted PBX with core business software is often highly desirable, especially where it can provide efficiency and improve productivity. One example is of taxi firms which enjoy the benefit of auto-allocation and scheduling of jobs across the workforce while obtaining analytics and management information.
A bespoke CTI project may cost more than an out of the box solution, as most vendors of cloud hosted PBX solutions charge for performing CTI to create customised interoperability of the hosted PBX with the customer's other systems.
Contact Centre Reporter
Contact Centre Reporter (CCR) provides CCR wallboards. This a system for contact or call centres to manage workload and monitor staff when using a cloud hosted PBX. The KPIs provide a comprehensive range of statistical data to provide insight into the performance of contact centres and individual members of the contact centre team in response to the inbound telephone workload.
Softphones
With a headset connected to PC/laptop audio ports or via Bluetooth, softphones eliminate the need for handsets. This functionality is available on cloud hosted and legacy PBX systems. Either way this approach eliminates handset costs.
On cloud systems softphones are usually provided free. Softphones are convenient because you take them anywhere your laptop goes. A common example is Skype for Business.
DDIs
Direct Dial-In (DDI) phone numbers allow users to be directly dialled to receive inbound calls without operator or auto attendant intervention. These are normally free with hosted PBX solutions but have a cost attached when using legacy IDSN lines.
Multiple site support
Seamless support for multiple sites is highly desirable for many companies. In a legacy system PBXs at each site are linked together through PBX networking. This is costly and complex however, many companies need to do it.

Where multiple sites are connected to a single cloud hosted PBX telephony solution there are no such barriers. All handsets on the sites link to the same hosted PBX to provide seamless voice communications without the expense.
Home and remote workers are able to enjoy the benefits of being connected directly to their office based co-workers telephone system without the need for handsets and without complex VPN connections.
Auto Attendant
An Auto Attendant feature lets businesses configure dual-tone multi-frequency signalling (DTMF) option menus for inbound callers. This is the familiar feature where callers press number pad keys to leave voicemails or transfer to switchboard and so on.
Scalability
When considering legacy PBX systems scalability is a thorny subject. Generally upscaling the system is restricted by the hardware itself or by licencing. At the very least you would have to buy additional licences. Often hardware expansion may be required, attracting significant upgrade costs. In a 'worst case scenario', as a business grows you may have to replace the whole system and install additional lines to provide more concurrent connections.
With a cloud hosted PBX telephony solution the system grows as big as you need it when it is required and there are no new physical links required. The 'telephony-as-a-service' business model means it is charged per user per month. Users are easily added or removed without scaling issues.
Backup telephony systems
When using a legacy approach, ensuring redundant systems are in place to ensure continual operation in the event of failure is a costly business. To ensure proper operation it may be necessary to duplicate the primary system completely. Few businesses put in redundant PBXs to provide backup.
With many cloud hosted PBX solutions, redundancy is available as standard at no extra charge. This fits very well with today's desire for Business Continuity and Disaster Recovery capabilities. In the event of a loss of access to an office then handsets/softphones can be connected from other locations, enabling the continuation of business.
Increase focus on core business
Some solutions mean internal team members, whether dedicated IT staff or those who just happen to wear the 'telephone system hat' are free of responsibility of looking after telephony because the service provider takes care of it all. Such workers are able to concentrate more fully on higher value IT duties or on their core business roles.
Other hosted systems provide a customer portal so all the management may be carried out by IT or a nominated member of staff.
---
Summary
The features of an on-premise PBX are broadly comparable with those of a hosted PBX. However, there are significant organisational benefits, including:
Reduced TCO
Increased flexibility and scalability
Better opportunities for efficiency through integration
Lower cost and seamless support for multiple sites
Resilience and Business Continuity
---
Best Advice for Businesses
When it comes to provisioning voice communications for a business consider the advantages of offloading telephony from the internal staff tasked with the responsibility by partnering with a good cloud Hosted Phone System service provider. This allows businesses to:
Replace legacy hardware PBX located in offices with a cloud Hosted Phone System
Purchase or rent VoIP handsets for the cloud Hosted Phone System
Avoid some of the point-to-point call charges associated with legacy telephone systems
Enjoy greater voice communication flexibility and better productivity
Gain access to up and down scaling on-demand, rapid commissioning supporting fast start-up or 'pop-up' businesses
Avoid CAPEX and fixed asset depreciation, only paying a monthly fee for voice services
---
Why Is HTL Support a Preferred Technology Service Provider to the Service Sector?
HTL Support is a specialist provider of cloud technology solutions to the service sector.
HTL Support has the expertise and experience to help finance, recruitment, legal, travel, and software firms to meet their regulatory obligations or follow guidelines on the use of technology.
It is our confirmed belief the cloud offers outstanding opportunities for service sector firms to leverage technology so it returns more value to their businesses. Hosted telephony solutions have transformed the equation of provisioning voice services for business, offering superior performance and richer features for much lower costs to provide exceptional value.
HTL Support works with in-house compliance experts or external consultants to ensure any solution exceeds interpretation of the applicable regulatory codes. Serviced Cloud is able to provide the appropriate level of services required by the majority of finance, recruitment, legal, travel, and software businesses.
---
About HTL Support
HTL Support is a close knit and highly professional team of technology professionals that are evangelists for cloud solutions. This is because we believe the benefits are unrivalled by equivalent on-premise approaches to provisioning business technology.
The business benefits of the cloud are regularly highlighted in the press and deliberated in boardrooms. Cloud technology is a topic about which the vast majority of business leaders are likely to have more than a passing interest.
Based in the heart of London in Canary Wharf, HTL Support was incorporated in 2009 with a clear and simple vision. We are dedicated to helping business leaders in financial service organisations find the best way of successfully adopting cloud technology in their businesses. We offer best of breed Hosted Cloud Services in our ISO27001 London data centres, and help clients to create their own Private Cloud systems in their own offices or data centres.
Our friendly and professional engineers and consultants have extensive experience, proven track records and 'can-do' attitudes. We offer independent advice but partner with the leading cloud technology companies to ensure seamless support. We are serviced focused; our client's satisfaction is paramount.
---
References and further reading
"It's Good to Talk" - the story behind the campaign
Campaign
http://www.campaignlive.co.uk/article/its-good-talk-story-behind-campaign/938629
How IP Voice Services Saves Money
BT
https://www.btwholesale.com/assets/documents/ip_voice_services/IPVoiceServicesTCOWhitepaper.pdf