5 minutes reading time
(1010 words)
8 Benefits of Outsourcing IT Support

Technology is evolving at a rapid pace, and along with it, innovative solutions in the business world. For enterprises, keeping up with technological developments also means ensuring that your organisation's hardware, software, and computer networks are working efficiently. But this is easier said than done for smaller businesses with limited IT budgets.
The reality is that maintaining and managing IT infrastructure can be a complex and time-consuming task that usually requires specialised skills and expertise. IT talent, however, is becoming increasingly difficult to acquire and retain in today's technology-driven business environment. For this reason, many organisations are seeing outsourced IT support as a cost-effective and efficient option to meet their technical support needs.
In this post, we take an in-depth look at outsourced IT support—what it is, what types there are, and what benefits you can gain from IT outsourcing.
What is Outsourced IT Support?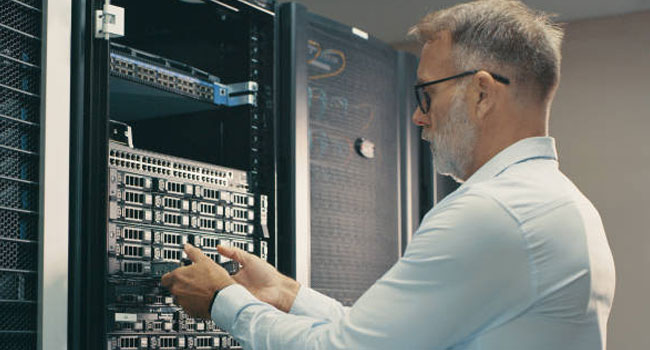 Outsourced IT support is a type of service where an organisation acquires the services of a managed services or third-party provider to manage its IT infrastructure and offer support for its technology needs. This service covers a wide range of services and the specific service offered by a provider can be customised depending on the particular needs of the business.
As such, outsourced IT support providers typically have a team of IT specialists with varying levels of skills and experience in different areas of technology. Services are offered on a subscription or contract basis, allowing enterprises to access ongoing maintenance and support services even without having to hire an entire IT team in-house.
IT outsourcing of technical support has become more widely used among organisations because of the depth of technical expertise and the range of IT services that you can subscribe to. IT support service offerings include:
Help desk support. By far, this is the most common form of tech support where help desk technicians offer assistance to end users for the usual IT issues including password resets, access to applications, simple hardware troubleshooting, and the like.

Network and server management. For this service, the provider manages and maintains the company's network and server infrastructure such as backups and upgrades.

Software installation and maintenance. The service provider takes care of installation and maintenance of software applications including upgrades and security patches.

Cybersecurity. This IT support involves implementing and managing security measures to keep the company's data and infrastructure safe from cyber threats.

Cloud services. IT outsourcing of support for cloud services is also being practised, where the provider looks after the company's cloud infrastructure, managing their data storage, backup, and cloud security.
Outsourced IT Support: 8 Key Benefits
A number of surveys report that outsourcing IT support is becoming a popular option among many businesses. For instance, The 2023 State of IT Report by software company Spiceworks Ziff Davis suggests that spending for managed services or outsourced IT will account for 18% of IT budgets; that's up from 15% in 2020. This is because more enterprises are seeing the many benefits that can be realised from tapping managed service providers for IT support. These benefits include:
Cost Savings

One primary driver of business decisions in any organisation is the cost savings factor and outsourced IT support offers this. When you outsource, your company avoids the costs that come with recruiting, training, and managing an in-house IT team. Further, costs are more predictable because third-party providers typically offer fixed or predictable pricing models for their services. Businesses don't have to consider factors such as employee salary increases and benefits, as well as unpredictable hardware replacements or software upgrades.

Access to specialists

Your company no longer needs to directly employ IT talents in various tech areas because the provider already has this covered. Managed services providers have a team of specialists with varying expertise and experience in technology. This means that businesses can leverage the skills of these professionals rather than relying on in-house staff with potentially limited expertise.

Scalability

An organisation's technology needs may vary from time to time, and outsourcing IT support can improve scalability by providing access to a flexible IT infrastructure. If an enterprise, for example, experiences a sudden surge in demand or needs to rapidly expand operations, the IT provider can quickly deploy additional resources—cloud infrastructure or additional support staff, to ensure that the IT needs are met and operations continue smoothly.

Improved efficiency and productivity

By leaving the management of your IT infrastructure and tech support to a service provider, your enterprise can put its focus on core business. Without the distraction of IT issues, employees can be more efficient with their tasks and productive with their time.

Round-the-clock support

With outsourced IT support, third-party providers can offer 24/7 support so that customers can be given technical assistance at any time. This can be difficult to accomplish if you simply rely on internal staff and your business is serving customers in different time zones.

Faster resolution of IT issues

With their tools, knowledge, and expertise on different technologies, managed services providers are able to quickly identify and resolve IT problems. This increases customer satisfaction, reduces downtime, and minimises the impact of IT issues on business operations.

Enhanced security

Not all businesses have the resources to implement strong IT security measures, making them vulnerable to cyber threats. IT support providers can help with this because they have the knowledge and solutions to effectively protect an enterprise's data and infrastructure from potential cyber-attacks.

Regulatory compliance

Many companies are doing operations without giving much thought to industry regulations and privacy laws. This can put them at high risk for legal and financial penalties. Outsourced IT providers can assist organisations in developing the right security framework and implementing best practices so that they can be in compliance with industry and government regulations.
From cost savings and enhanced efficiency to scalability and increased security, outsourcing IT support offers many benefits that organisations should take advantage of. If you're not sure where to start with your IT outsourcing, your best first step would be to consult with a reliable managed services provider. Talk to one now.
Related Posts
By accepting you will be accessing a service provided by a third-party external to https://www.htl.london/